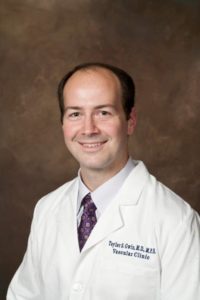 Dr. Taylor Gwin earned his medical degree in 2008 from Louisiana State University Health Science Center in New Orleans. While obtaining his medical degree, he also received a Masters in Public Health. In 2013 he completed a residency in general surgery from LSUHSC in New Orleans. Dr. Gwin received the Professor's Award for Overall Excellence in Clinical Surgery in 2013. He then completed his fellowship in vascular surgery from LSUHSC in 2015. Dr. Gwin was awarded the Douglas Leonovicz Award for Excellence in Vascular Surgery. Dr. Taylor Gwin joined Vascular Clinic in 2015 and cares for patients from Baton Rouge and all across South Louisiana.
His extensive training has allowed him to offer state of the art treatment in open and endovascular treatment of aneurysms, dialysis access treatment, carotid disease, peripheral vascular disease, varicose vein disease, and chronic venous disease. Dr. Gwin is a Registered Physician in Vascular Interpretation (RPVI) and a supervising physician with the Department of Surgery at LSUHSC in the residency training program. Dr. Gwin also actively supports the community of Baton Rouge and South Louisiana, offering free vascular screening events in partnership with the Baton Rouge General.
Dr. Gwin is now accepting new patients. For appointments please call (225) 767-5479 or (877) 767-5479.