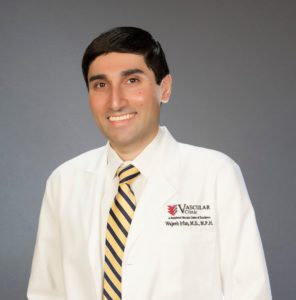 Dr. Wajeeh Irfan treats vascular disease and practices surgery in Baton Rouge and the surrounding areas. He graduated with honors with the highest distinction from the University of Florida, in Gainesville, FL. He then went on earn his Doctor of Medicine from the same institution in 2012. While obtaining his medical degree, he also received a Master's in Public Health. In 2017, he completed a five-year general surgery residency from the Louisiana State University Health Science Center (LSUHSC) in New Orleans. During that time, he received numerous honors, including the LSUHSC Surgery Resident of the Year, Highest ABSITE In-Service Exam Award, Excellence in Critical Care Award, Aesculapian Society Excellence in Teaching Nomination, and Douglas Leonovicz Award for Excellence in Vascular Surgery. After obtaining his board certification in general surgery, he went on to complete his vascular surgery fellowship from LSUHSC.
After his extensive training, Dr. Irfan is excited to have joined Vascular Clinic of Baton Rouge. He specializes in both the open and endovascular treatment of carotid arterial disease, peripheral vascular disease, aneurysms, dialysis access creation, treatment of varicose veins, and venous disease. He also serves as a Clinical Instructor for the LSUHSC Department of Surgery. His published papers include "The pathway to a national vascular skills examination and the role of simulation-based training in an increasingly complex speciality" (from Seminars in Vascular Surgery, Vol. 32, Issues 1-2, March-June 2019).
Dr. Irfan is now accepting new patients. For appointments please call (225) 767-5479 or (877) 767-5479.